What Is CBD isolate and how can I use it?
Continue reading to find out more about CBD isolation, including how to use it to enjoy its effects.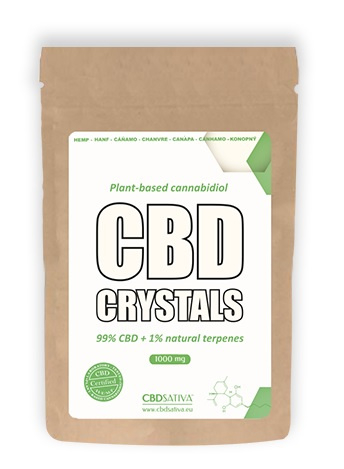 What is CBD isolate?
CBD isolate is a crystallized substance or powder that contains just cannabidiol. It differs from full-spectrum cannabidiol. Manufacturers of CBD isolate utilize a variety of processes to remove all of the chemicals and other components, such as cannabinoids and terpenes, from the cannabis plant. This includes the removal of any tetrahydrocannabinol (THC). These procedures result in the creation of pure CBD crystals. With a purity of approximately 99.8%, it is cannabidiol in its finest form. Subsequently, CBD crystals don't have an odor or flavor.
How can I use CBD isolate?
You have several choices when it comes to using CBD crystals. Some of them are:
1. Taking CBD isolate sublingually
The simplest approach to consuming CBD isolate is to just place the powder in your mouth and let it dissolve. Sublingual administration of CBD isolate powder allows CBD to enter the circulation before getting into the metabolism, resulting in more rapid benefits.
2. Adding to your beverage or drink
Adding CBD isolate to coffee or tea is a populair way to consume it. If you want to mix o rblend your smoothie or juice, measure out your portion and just add it to your drink. Because CBD isolation will not alter the flavor of your beverage or drink of choice, you will reap the advantages without compromising quality.
3. Adding CBD isolate to your food
You may prepare your homemade CBD edibles or include the flavorless powder in your favorite foods.There is nothing it will not mix with. However, you must be careful not to overheat it or your cannabidiol isolate will lose its efficacy.You may even make your ownc annabidiol sweetener, honey, dressing, oil, or other condiments to have on hand for sprinkling over meals.
4. Add it to your topicals or make your own oils and creams
To use the potency of CBD isolate externally, combine it with a cream, salve, or lotion. This might give you a temporary and on-the-spot respite from pain or discomfort.Make your own CBD oil by combining CBD isolate with a carrier oil such as olive oil or medium-chain triglyceride oil. In fact, utilizing a carrier oil aids your body's digestion of CBD isolate. Then you may make skin oils.
5. Dab or vape it
If you're feeling adventurous, you could even combine CBD isolate with terpenes to create your own cannabidiol concentrates to dab or vape.
Final Thoughts
CBD isolate is a flexible, cost-effective, and safe solution for those seeking the advantages of cannabidiol without the hazards associated with THC.
CBD Sativa
CBD Sativa
Celebrating our 5th anniversary!
2017-2023
Shopping cart
No items in shopping cart.